How to Effectively Manage Microservices Architecture and Versioning by Accepting Their Interdependence
The most effective way to leverage microservices architecture is acknowledging their interdependence rather than chasing the utopian dream of considering them independent.
In the "7 Habits of Highly Effective People" Stephen Covey talks about the Maturity Continuum, which is crucial to be effective in all aspects of life by "learning to keep growing based on what you learn." The Maturity Continuum is a three-step progression that moves from a paradigm of:
Dependence
Independence
Interdependence
This continuum, and the three-step process also applies to the lifecycle of software development and the "life of service." Let's explore this concept in this article.


The Software Development Era of Dependance
Monolithic Applications
In monolithic applications architecture, different parts of the application, which were called modules, were strongly coupled together. I mentioned modules because even during that era, the goal was to introduce as much loose coupling as possible.
The Software Development Era of Independence
Microservices
As service-oriented architecture became mainstream, these modules got transformed into what we would call today coarse-grained microservices (if you hate oxymorons, call them macroservices). This did not exactly make services independent but became a precursor to it by solving the contract problem.
Since services were independent, they needed to define their service-to-service contracts as APIs. Since these contracts were not static in time, these APIs also needed versioning. The most significant proof of how transformative these public APIs were was that API management became a sizable industry.
In the next iteration, these coarse-grained services transformed into fine-grained services. This was fueled by the cloud movement as lighter artifacts were needed, which could be replicated across zones. These microservices were also supposed to be independently deplorable.
The Software Development Era of Interdependence
Microservices are as independently deployable as modules (remember, they were modular in the era of dependence). The issue of "ordering" becomes a huge challenge when a microservice is independently deployed. As the old saying goes, "You can not deploy a cart before the horse".
When a microservice is changed, the change is only compatible with a specific version of upstream and downstream services.
And the ramifications of this type of "independence" creates issues with how version tracking is managed. Version tracking is done manually which makes it difficult to keep track of, laborious, and riddled with errors.


The Roost AI-enabled Platform Automates and Tracks Microservices Versioning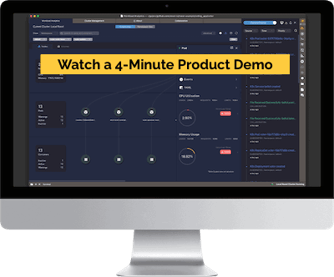 The most effective way to leverage the microservices is acknowledging their interdependence rather than chasing the utopian dream of considering them independent. Service sequencing and their order remains an extensive problem in the development of an application.
The Roost ephemeral environments as a service platform automates and manages the entire process.
The Roost platform continuously scans source-code repositories (e.g. GitHub, GitLab, BitBucket) and discovers environment configuration (e.g. Helm charts, Docker files, Docker compose, Kubernetes Yaml files, Terraform files) it can automatically test code changes with the latest versioning and the power of machine learning.
This PROPRIETARY PROCESS is Roost's "secret sauce" to avoid integration issues later in production.
Sign up for a demo to see how it all works!