How Change Failures Slow Down Release Timelines
As the number of containerized applications increase, integration issues become harder to detect. Left unaddressed, these issues slow down release timelines and increase change failure rates.
Downtime from change failures can cost millions of dollars in lost revenue. But slowing down your release process in an attempt to avoid change failures hampers innovation and erodes your competitive advantage, hurting the business even more.
Containers promised to make downtime a thing of the past. They have, in fact, dramatically reduced outages related to scaling. The problem is containerized applications are meant to be updated and iterated on constantly.
And, with each change comes a risk of failure.
HOW ROOST ELIMINATES CHANGE FAILURE RATES
Roost ensures container-native apps & services are battle hardened before they hit production.
Roost enables teams to discover interaction and interdependencies' issues early in the development cycle in a production-like environment. Development teams are able to improve the predictability and stability of releases, enhancing developer productivity and eliminating change failures.

Key benefits include: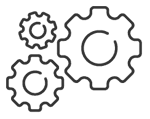 Develop with Live Services
Roost believes that collaboration is the key to eliminating change failures – and reducing frustration! Left-shifted, AI-powered integration means less time spent debugging services.
Develop in a Production-Like Environment
then Certify & Validate Services
Roost makes 'works on my machine' a thing of the past. Teams develop in a production-like environment and certify that services are working together prior to release ensuring absolute consistency between environments.

Disposable & Sharable Pre-Production Environments
Roost spins up a temporary, sharable production-like environment. Once the release is complete the instance can be disposed of reducing the need for cloud services.
Significantly Reduces Cloud XOps Costs
Roost not only solves the tooling gap but goes beyond it.
Roost takes away the burden of managing large cluster environments
Roost spins Kubernetes clusters in a fine-grained manner to reduce your cloud costs while ensuring absolute consistency in development and production environments.
don't worry about your releases
Roost ensures change failures do not occur for container-native apps!
See How
Confidence feels good!