Environments as a Service allow developers to effortlessly create release environments and share it with stakeholders for fast testing & certification.
Data Sheet: Environments as a Service (EaaS)
Instant and Ephemeral Pre-Production Environments @ Pull Request
While in the cloud-native world a lot of infrastructure has been slowly abstracted and automated, but pre-production environments are still created using hand-crafted scripts. To make matters worse, every team like development, QA, DevOps, and security have their own unique environments and pipelines to determine whether a pull request is ready for production or not. These environments increase the risk that applications that work in pre-production won't work in production.
Roost solves this problem by bringing the As-a-Service model to pre-production environments with "Environments as a Service."
Increase the Speed of Innovation
with EaaS
With Roost Environments, teams no longer need to worry about creating and maintaining pre-production environments. Developers can focus on writing code and infrastructure is handled transparently. Roost auto-discovers environment configuration and optimizes it using the power of machine learning. Developers can effortlessly spin up an ephemeral environment either at pull request, feature branch or any custom insertion point and create release environments so it can shared with other stakeholders (e.g. Quality Assurance, Product Managers, Security) in the form of a simple URL. Each stakeholder can validate this tangible deliverable using their own criteria.
Roost Environments Solve Massive Challenges Caused by Static
and Bespoke Environments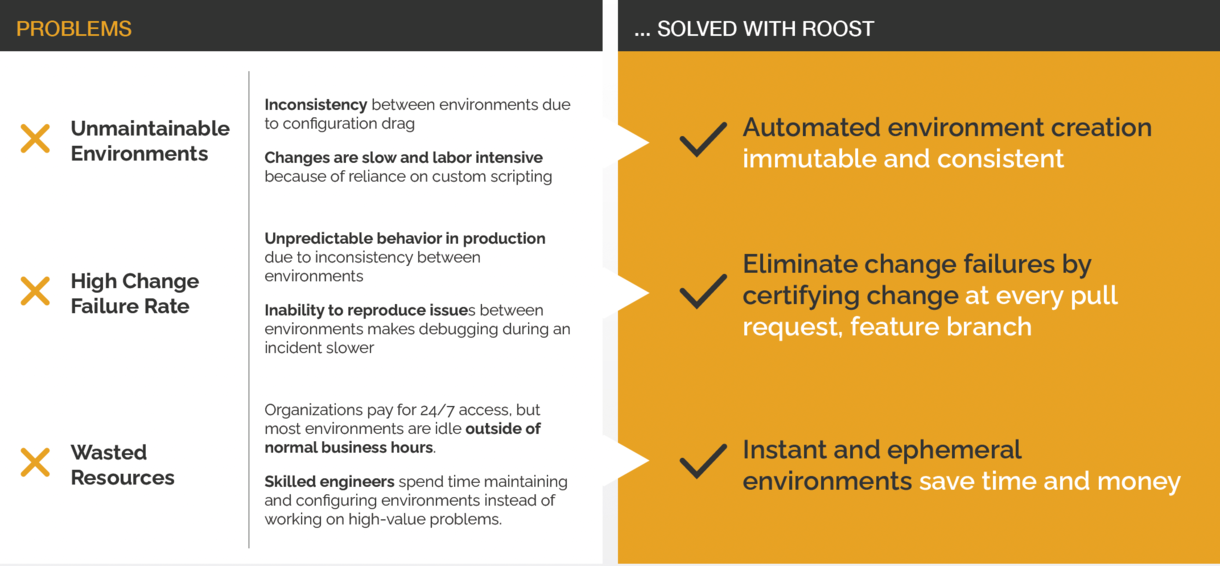 Request a Live Demo
See how Roost lets you move fast and deliver better products, with the autonomy to spin up fully isolated release environments on-demand helping to speed the rate of innovation for your company. See how Roost release environments streamline the development process.